Water Based Lubricants
Water-based lube is the most commonly used lube you will find on the market. Many established brands like KY and Astroglide are water-based. Because it is water-based, it is easier to wash off than other lubricants. Jack And Jill have many more water-based varieties of different sizes. Some are warming and cooling, and some of them are flavored. When it comes to water-based lubricants, there is something for everybody. Water-based lube is the preferred lube for most sex toys. Read more about water-based lubricants personal lubricant's job is to make everything wetter and better. While there are different kinds of lubes, water-based lubricant is easy to clean up, since it is water-based. Water-based lube is especially great for people with allergies or sensitive skin who might have a reaction to heavier oils and lubricants.
Reducing Friction, Increasing Wetness
Sometimes men and women just need a bit of assistance when it comes to smooth lovemaking or solo sessions. Fortunately, different lubes are often labeled specifically for vaginal sex, anal, massage, toy play, and more, so it's easier to navigate a large inventory. Products like the Wet Uranus Water-Based Anal Lubricant are specially formulated for that specific type of sex. Whether newbies are trying anal sex for the first time or experienced lovers want to make it a bit easier, a product like this really is a great purchase as opposed to a general personal lubricant.
Create Bodily Sensations
Looking to keep things interesting? Products like the Climax Bursts Tingling Lubricant take lube to the next level with cooling and heating sensations. Your erogenous zones will begin to tingle or warm as your climax builds, leading to an exciting crescendo you'll always look forward to. Whether curious or wanting to try something new, this is a great water-based lube for everyone.
Tease Your Taste Buds
Using flavored lube means you won't have to worry about experiencing that unpleasant medical taste often found in plain or drug store lubricants. If you're going to be using your mouth, why not make the experience even more delicious? Not a fan of fruity flavors? Give the Intimate Organics Vanilla Caramel Lubricant a try. This is a sensuous flavor that does the job of a regular lube, but it has an amazing sweet taste as well. There are dozens of water-based lube options available for you. It just comes down to what you like, so feel free to experiment with them.
Silicone Based Lubricants
Silicone-based lubricants have a different feel and consistency than water-based lubricants. Silicone is also sometimes a preferred lubricant to use for anal sex. Jack And Jill has many different varieties of silicone lube, including trusted brands like Wet and ID Glide. Read more about silicone-based lubricants
Exploring Silicone Lubes
Thicker than your average water-based lube, silicone lubricants have a longer staying power and do not become absorbed into the skin. These are perfect for just about any kind of sexy time you are looking to have, even if that sexy time is you and your favorite toy. So, pick one of your favorites lubes out from Jack & Jill and enjoy the ride. It'll be much smoother than ever before.
Pump It Up
Who likes fumbling around with a bottle of lube and trying to squeeze it all out? That is just is hard to do, and makes for a slippery situation, literally. Instead of a squeeze bottle, go with a pump action bottle that is ready to give you ample lube with a single pump? From Spunk Hybrid Lube to STR8cam Lube Hybrid, products like this are easy to use; so you won't need to worry about getting lube everywhere.
Condoms And Lube
One of the most common complaints about using a condom is that sex is dryer. While nothing beats skin on skin, it is never worth the risk of infections, disease, and/or pregnancy. So, when practicing safe sex, pick out a lube like the Trojan Lubricants Silicone Simply Pleasure, this helps enhance your fun while keeping you safe. Whenever you select a lube for condom use, always make sure it is designed to work with a condom.
Find What You Like With A Sample Pack
Finding the best lube for your particular needs can be difficult. After all, there are hundreds of kids out there, and it is probably going to take a long time for you to finish one bottle. That is why you should try out a lube pack like the Moist Lubricant Sampler. This makes it possible to mix and match, experiment, and see what's out there.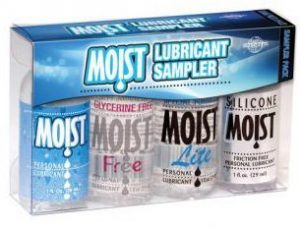 Flavored Lubricants
While lube may feel good during sex, it isn't known for tasting good. Luckily, flavored lube is available, and Jack And Jill have a wide variety of flavors. With flavors ranging from cherry to caramel, there will be a lube that is pleasing to both your lover and your palette. Read more about flavored lubricants.
Add A Little Flavor To Your Sex
Who doesn't love a good rubdown? Teasing your lover with the use of lubricants and oils during foreplay sets the perfect mood for an evening in the bedroom. Jack and Jill Adult Store carries sensuously scented lubricants and edible oils that make lovemaking even more delicious.
A Slick Situation
The one thing you never want to experience during a sexual encounter is dryness and friction, which can be painful for men and women. There are a number of products intended to remedy this situation, but pausing to break out the lube can do serious damage to the mood. Fortunately, Jack & Jill provides an exciting way to apply lubricant to your partner's body and vice versa. Applying lubricants with your mouth makes intimacy more comfortable without interrupting the natural flow of things. There are several different types of flavored lubricants from Jack & Jill available, and they all help you keep passion levels high.
Water Based & Silicone Based Lubes
As the most popular type, water-based lubricants are ideal for use with adult toys. Jack & Jill has flavored water-based lubricants as well as those that warm and cool to the touch. Silicone lubricant is closer to the sensation of vaginal sex, which is why many people prefer it for anal penetration. These lubricants often have a fruity flavor like cherry or caramel to mask the main ingredients. Lubricants like the Watermelon flavored Edible Massage oil are 100 percent vegan so anyone can partake in the fun. The product is also free of harmful ingredients like parabens, dyes, phthalates, sulfates, alcohol, and propylene glycol. Try giving your partner a full body massage and removing every inch of the lotion with your tongue. Skip dessert tonight and have a good time with Jack & Jill.
System Jo Products
Whether you're a virgin or competing for a tantric championship title; at some point, you're going to need lubricant. Lube is ideal for almost any scenario –masturbation, sex with a partner, and especially anal. Although the vagina self-lubricates when women are turned on, sometimes you want to be wetter. There's nothing worse than dryness and friction when it comes time for insertion. Sex without lube can be downright painful! Jack and Jill will ensure you never have a rough time between the sheets.
Flavored Lubes
Great for foreplay and safe to ingest, flavored lubes provide relief from a potentially awkward situation that requires stopping mid-act. Our best sellers are none other than System Jo in Peachy Lips and Strawberry Kiss. They're both water-based making them versatile enough for hand jobs, oral, anal –even solo fun with a dildo! No sticky mess like you'll find with other lubes.
Single-Purpose Lubes
For a straightforward water-based lube ideal for use with any sex toy, you can't go wrong with some fragrance-free Jo H20. Intensify your next sex session and glide it on with a polyurethane or latex condom.
Silicone-based lube like Jo Premium Jelly is akin to real vaginal lubrication. Apply a small amount and add more as needed; just don't use it with silicone toys as it will break down the material.
Allergy-prone women do well with Jo Agape which is void of glycerin, silicone, and oil, with the perfect pH balance. It's latex-friendly, too!
System Jo Nuru Full Body Sensual Massage Gel aids in providing the most intense massage you'll ever receive. Be warned: it's extra slippery and will stain.
For clit stimulation that's out of this world, use a dab of Jo Clitoral Gel and wait for the tingles. It comes in various degrees of intensity from Spicy to Atomic. Though it's great for sensitive skin, be sure to stop if you feel any discomfort or irritation.
Hybrid Lubes
To mimic the feel of real lubrication, System Jo has created several hybrid lubes like Cooling Coconut which is oil-and-water-based for a slippery, moisturizing good time. For silicone and water-based needs, there's the Jo Hybrid Lubricant which comes in a 4-ounce bottle. It's stain-free and long lasting – perfect for marathon sex and latex condoms. Jack and Jill has a lube for every occasion. Embrace the assistance and step up your love life with a System Jo lubricant during your next romp!
Stimulating Lubricants
Many lubes do more than simply provide moisture to an applied area. Some are specifically designed to stimulate certain body parts. There are many lubes designed to stimulate the clitoris. Some lubes stimulate a woman's G-spot. Others numb the anus, making it better prepared for anal sex. Beyond insertion, there are also some sensual massage gels. No matter what you are looking to stimulate, Jack And Jill has you covered. Read more about stimulating lubricants.When it comes to having fun in the bedroom, whether you're alone or with a partner, a lubricant is one of those products that should be close at hand. While there are tons of brands out there – and many of them are very good – not all of them provide that extra spark some people seek. That's where stimulating lubricants can really come in handy. If you've never used stimulating lubricants before, or you're just looking for a new one to try, you'll find quite a few out there.
The Benefits Of Stimulating Lubricants
Lubricants that provide stimulation usually help to arouse one or both partners while making foreplay or sex a whole lot more pleasurable. While what the lubricant does depends on the particular one you're using, they're just there to make sex more enjoyable all around. Few people have ever complained about lubricants that offer extra stimulation after all! Use this guide to find a few stimulating sex lubes to add to your pleasure chest.
Pjur My Glide Stimulating And Warming Lubricant
One of the best warming water-based lubricants on the market, Pjur My Glide stimulating and warming lubricant can turn a basic romp in the hay into an experience neither partner ever forgets! Perfect for solo play or for couples, this lubricant can also be used with protection including latex condoms. Made to exacting ecological standards, this special lubricant is also good for the environment, so you can rest easy when you buy it.
Max 4 Men Stimulating Prostate Gel
The prostate is one of the most sensitive areas that a man has, so it only makes sense that a lubricant designed to stimulate that area would be on this list. Whether you're a male enjoying strap-on play with a partner, a sex toy by yourself, or you're part of a couple, Max 4 Men Stimulating Prostate Gel is a must-buy. This product is also body- and latex-friendly, so you can use it without worry.
Sliquid Sizzle Warming Lubricant
Water-based and completely paraben-free, Sliquid Sizzle warming lubricant is a must-have for any couple in the bedroom. Designed to warm the skin on contact, it's perfect for foreplay or intercourse, for heterosexual, gay and lesbian couples. Sliquid Sizzle warming lubricant can be used with condoms, and the warming sensation will last quite a while. You can always reapply, so make sure you keep this excellent lubricant close at hand when you're in the bedroom.
ID Stimulating Gel Wild
Made in a few different varieties for solo play and couples, ID Stimulating Gel Wild is perfect for intimate play both alone or with a partner. In fact, many men and women swear by this lubricant, which was designed to stimulate female arousal and produce incredible orgasms during play or sex. The natural aphrodisiac elements contained in ID Stimulating Gel Wild are also perfect for really getting revved up in bed with your partner. You'll be reaching for this wonderful lubricant, again and again, all night long. There are many different kinds of lube on the market to choose from. They offer different tastes, feels, and experiences. No matter what kind of lube you are looking to experience, Jack And Jill can provide it for you. If you are in need of lube, visit our storetoday or shop online. You'll be glad you did. Please visit our homepage for all other adult toys.