Too many people believe that sex toys are only for women. Male sex toys not only exist, but they should also be celebrated for the pleasure they can add to your solo sex or partnered pleasure. From masturbators and pocket pussies to vibrating cock rings and prostate massagers, male sex toys enhance your sex life in so many ways, you can only imagine.
Sasha Grey Ultraskyn Cream Pocket Pussy
Who wouldn't want to dive between Sasha Grey'ssultry lips and pouty smile? Short of coaxing her out of retirement and buying her a drink, this is the next best thing. Modeled after the famous vixen's vagina, this 5.3-inch long pocket pussy has an insertable length of 4.8 inches and a width of 2.6 inches. It's the perfect date for a night in and it won't wonder why you didn't call the next day.
Mega Grip Squeezable Vibrating Strokers
Graduating from gym socks to the Fleshlight was a major step in your masturbatory journey. Now, it's time to head to the major leagues of male masturbation. The Mega Grip Squeezable Vibrating Strokers are the professional masturbator's tool of choice. These hands-free, waterproof, USB-rechargeable strokers are powerful enough to give you an intense orgasm each time you use it. Simply sit back and enjoy as it does all the work for you. It won't care if you don't want to snuggle afterward, and it will never ask how many ladies you have had in your bed. Quite frankly, this is one of the best sex toys you will ever find!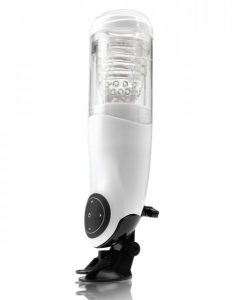 Apollo Automatic Power Pump Remote Control
Coming up short when it's time to play? Not a problem if you have this bad boy tucked under the bed. The Apollo Automatic Power Pump comes with remote control and a clear case. This makes it easy for you to pump and plump yourself up to your partner's desired size. The LED display on this 9 inch by 2.5-inch cylinder measures the PSI vacuum and shows you exactly how much pressure is on your pecker. The next time you use it, all you have to do is remember the number, push the button, and wait for it to do its magic.
Find Your Male Sex Toys At Jack And Jill
Those are only the most common sex toys for men. Men with erectile dysfunction can enjoy penetrative sex again with hollow dildos and strap-ons. Smaller than average guys benefit from penis enhancers. When you want to feel the real thing and lack a partner, you've got options from sex dolls to ass and blowjob masturbators. Don't let anyone tell you that guys can't get off with their own sex toys. It's simply not true. Whatever makes you hard – or helps you get there – can be found through Jack and Jill's vast inventory of male sex toys.
Top FAQs About Male Sex Toys
Aren't penises and testicles too sensitive for vibrators?
Everyone's body reacts differently to a variety of stimulation, including vibrations. You may find that some vibrating male sex toys are too powerful but others might be just right. Don't think of it as a jackhammer pounding on your body but more of a buzzing or pulsing.
How exactly does a cock ring work and how do I know it will fit?
Cock rings fit around the base of your shaft or your testicles, depending on what you prefer. Once on, the ring restricts blood flow into your penis. This causes you to get harder than usual and stay that way longer. You're able to prolong your orgasm and by the time you do come, it's more intense than normal. Most cock rings are made of a super-stretchy material that will fit around most penises. Anyone with a smaller or larger than average penis may need to check sizes first.
Are male sex toys with porn star names really modeled after the porn stars?
This may surprise you, but the answer is yes. Fleshlights and other high-end masturbators modeled on a porn star will be better quality replica than the less expensive, lower end options.
Can sex toys help me if I have erectile dysfunction?
Several male sex toys are specifically designed to help men in this situation. If your erectile dysfunction isn't too severe, a cock ring may be all you need to help you stay hard. Prostate massagers are also a good option to provide stimulation in a different part of your body.
How do I use a prostate massager?
If you're new to anal penetration, look for a prostate massager with a narrow tip. Use a lube appropriate for your toy (water-based for silicone, PVC, and jelly toys, or silicone lube for other non-porous materials). Start slowly and ease the massager into your anus. You don't have to go too far to reach your prostate. You may want to turn it on as you're pushing it in – the stimulation will help relax your body. You'll know once you find the right spot.
What's the difference between a masturbation sleeve and a pocket pussy?
Both toys are designed to let you insert your penis into the opening and stroke yourself until you orgasm. Masturbation sleeves tend to be larger and more cylindrical in shape, sometimes with a larger opening. Pocket pussies are a smaller version and may even be designed to look like pussies, asses, or mouths.
Please feel free to visit our homepage for all other types of adult toys.