The last few months have been tough and it's more than likely you've spent more time at home with your partner than you ever have before. While having them by your side can be comforting, it can also be really trying. Keeping the chemistry between you alive in the bedroom is a surefire way to make lockdown a little bit more entertaining.
With that in mind, here are seven sex games to spice things up in the bedroom. From creating a fantasy jar, setting up your own life drawing session with a sensual end, or adding a strip element to your favorite games, there are so many ways to bring something new into the bedroom and every other room in your house.
The Sex Fantasy Jar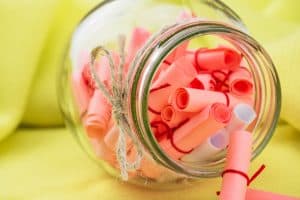 One way to keep things fresh in the bedroom is to try new fantasies. Lockdown has given many people the gift of time. It can be tough communicating what you want when you're put on the spot so take a little bit of time to write out everything you're into on pieces of paper. Then when the mood feels right, take it in turns to select a fantasy. If you're both comfortable then see where it goes.
Add A Strip Element
I've been playing a hell of a lot of video call beer pong since lockdown began. If you and your partner are extra competitive then why not add a strip element? When you come to the beer pong table every time you land a ball in one of your partner's glasses they have to drink the contents but then also remove a piece of clothing. The winner is left standing with their pants on and all of their alcohol.
Blind Poker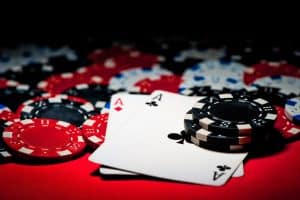 This is a little bit like strip poker with a major twist. Each player receives their cards. However, before looking at them you start betting. You can leave your money in your purse. In Blind Poker you can bet with actions and treats. Once you're done betting cards are turned over and your fate is revealed.
Copy Porn
Sometimes things can get a little routine in the bedroom and getting a bit of visual inspiration can help. Find a sex-positive porn scene that both of you are into. Watch the film together and then try acting it out. You can use the positions the actors do or see where the moment takes you.
Private Life Drawing
Why not get in touch with your creative side while modeling for your partner? Take it in turns to take your clothes off and pose as they draw you. You don't need to have all the skills of Picasso. The point is that you can have a laugh, tempt your partner with your poses, and see where the night takes you. The perks of having a private life drawing class at home are that it can end in bed.
Guess The Spot
Foreplay is such an important part of fun between the sheets. Take it in turns with your partner to pick a part of your body. Your other half has to guess where you're thinking. However, they can't point to it or merely say it, they have to kiss it. The game ends when they guess right.
Stop And Start
Edging is the practice of stopping yourself from reaching orgasm when you're right on the cusp. This can be achieved by stopping your partner or yourself. Some say it makes orgasms feel all the more intense. Set a timer on your phone and lie down. Your partner can then pleasure you for that designated amount of time but there's a catch, you can't climax. Then swap and see how long you can hold out before you have to give in.
Conclusion
You don't need to splash out on games or push yourself out of your comfort zone in order to spice things up in the bedroom. If things have got a little bit routine then sharing new fantasies, setting aside some time to be together, and adding a sexy element to a favorite game could be the way to pass the long hours in lockdown.
Do you ever play sexy games in the bedroom with your partner? What do you like to play? Let us know below!
---