Spankings are often called a gateway kink because a lot of people find their kinky side from a hand landing on their butt. When you're ready to explore BDSM fun in new ways, take your spanking experience to another level with a high-quality paddle.
Not sure where to start? Check out this list!
Lust Bondage Paddle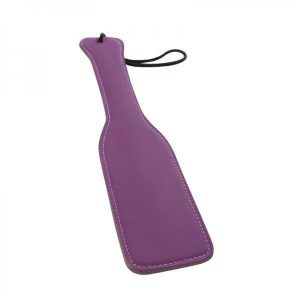 LUST offers a wide kinky collection of coordinating BDSM gear to make your next sexy encounter more fun and beautiful. That includes the purple Bondage Paddle. It's made of a vinyl material that's lightweight and easy to use. This paddle measures 12.5 inches long and 2.5 inches wide and will create a satisfying smack with each swing.
Sex & Mischief Studded Paddle
Want to have choices when you're ready for a kinky spanking? Check out the Sex & Mischief Studded Paddle. It features two distinct sides. One is smooth and the other is studded. Switch between the two sensations to vary the fun. For a completely different experience, place your paddle in the freezer to let the studs cool down and then use it for a kinky temperature play spanking.
Sportsheets Leather Paddle with Black Fur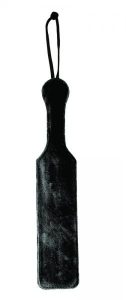 Not all spankings have to go hard. They can be soft and sensual, too. The Sportsheets Leather Paddle with Black Fur is the perfect toy to use for a less intense spanking. The paddle is solid leather, so one side is firm and smooth. The other side is covered in black faux fur to soften the sting. This paddle includes a leather wrist tie for added security during use and easy storage later.
Saffron Square Paddle
The Saffron Square Paddle is a rigid, red paddle made with a comfort grip and a wide paddle area for maximizing pain and pleasure. Bound in a soft, smooth vegan leather, you'll hear and feel a satisfying smack with each strike. A wrist loop is included for extra security while using and easy storage when you're done playing.
Sex & Mischief Enchanted Heart Paddle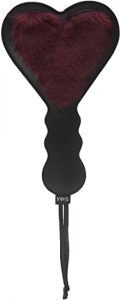 Want to show your love in a spanking? The Sex & Mischief Enchanted Heart Paddle lets you show your partner just how much you care. This heart-shaped paddle offers two sides of sensation: a flat, velvety soft surface and burgundy vegan fur for a more sensual experience. This paddle won't take up too much space in your toy bag, measuring in at just over 10 inches in length and over six inches at its widest.
Tantus Plunge Silicone Paddle
Think Tantus only makes dildos? Think again! The Tantus Plunge Silicone Paddle uses its 100 percent Ultra-Premium silicone blend in a new and exciting way. This black paddle creates a satisfying smack and leaves behind a real sting. Because of the silicone, it's also easy to clean and store.
Sportsheets Love Impression Paddle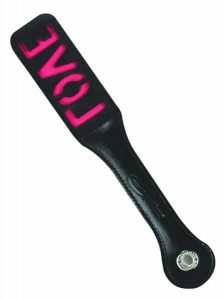 If you want your paddle to say something, choose the Sportsheets Love Impression Paddle. This 12-inch leather paddle features the word "LOVE" as a hot pink cut out. Your partner's cheeks will be hot pink as you show just how much you love them with each swing. Land the paddle just right, and your love will leave quite the impression.
Steamy Shades Luxury Paddle
For newer kinksters who want a beautiful and effective paddle, try the Steamy Shades Luxury Paddle. It features black lace on one side and soft cushioning on the other. The large contact surface area means you'll always hit the right spot. It's great for beginners and long-time kinksters alike and makes a great addition to any luxurious role play fantasies you might have.
Spartacus Zelkova Wood Paddle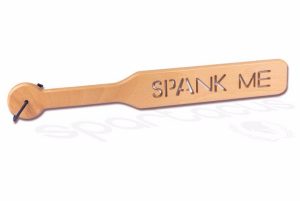 Enjoy the simplicity of a wooden paddle but looking for something a little extra? The Spartacus Zelkova Wood Paddle is exactly what you need. Made of solid wood, it measures in at nearly 16 inches long to cover more surface area. The SPANK ME cut-out will leave quite the impression, literally and figuratively, with each strike.
Conclusion
If spankings are your thing, there's a world of kink and fun just waiting to be explored. First, your hand, then a paddle, and before you know it, you might own an entire collection of BDSM gear to use on a willing butt. Make one of these paddles your first (or next) toy, and you'll be well on your way to even more spanking fun.
On YouTube? Check out the video version of this list!
Do you like spankings? With a paddle or with something else? Do you have a favorite spanking toy you like to use? Let us know in the comments below!