Ever looked down at yourself and wished you were bigger, thicker, or longer? Afraid that partners judge you for the size of your penis? You can use a penis pump to get a bigger penis, at least temporarily. But before you try other enlargement methods, make sure you understand the risks and the alternatives.
Here's what you need to know.s
Many Guys Wish They Had a Bigger Penis
If you look down at your penis and wish it was an inch or two longer or thicker, you're not alone. A lot of guys want the same thing. The truth is that the average penis size in the US is between five and six inches long when erect. (The numbers vary wildly for flaccid penises — because some people are growers, some are showers, and others are in between.) Regardless of what you've seen in porn, that's a respectable size.
Not every person you have sex with wants to be pounded by a foot-long shaft. Women who have a cervix rarely want that. A too-long penis can cause pain and even bruising during fast or rough sex. Size truly isn't everything when it comes to sex.
All Enlargement Options are Temporary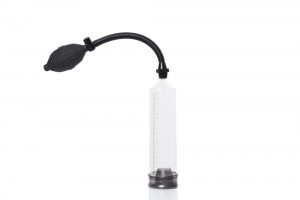 Any option you see online about giving yourself a bigger penis is, at best, temporary. Some methods don't really work at all. If you're determined to get a bigger penis and are comfortable with non-permanent results, you do have options.
Penis pumps like the Max Results Pump pull more blood into the shaft of your penis using vacuum-powered suction. When you combine that with a penis ring, you're more engorged than usual, giving yourself a bigger erection. It'll last until you orgasm, so take your time and enjoy the moment.
Penis extensions are a removable sleeve option for a truly temporary enhancement. Add a bit of lube, place the extension over your erection, and your partner gets the benefit of extra girth and length. When you're done, take it off and clean it so it's ready for you the next time you want to have sex.
Some Treatments Can Lead to Erectile Dysfunction
Don't let your desperation for a bigger penis lead you to try too many treatments or the more invasive options. Some may lead to bigger problems like erectile dysfunction (ED). Penile surgeries and penis stretching with weights can both cause permanent nerve damage and potentially lead to ED.  At that point, not only are you unhappy with your size, you also can't get or keep an erection at all. Take precautions with treatments that seem too good to be true or try to claim permanent size enhancement. There's no real miracle cure for giving you a bigger penis.
Focus on Other Parts of Sex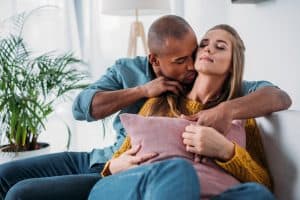 Penetration feels good, especially for you, but that's not all there is to sex. If you don't love your size, focus on other parts of sex instead. Get really good at touching, licking, kissing, and doing more where your partner craves sensation. Use your fingers, tongue, and even sex toys to make sex better than ever for both you and your partner.
Work on your oral sex skills and drive your partner wild with your tongue.
Stop thinking of foreplay as everything before "real" sex. All the sexy things you do before penetration counts as sex, so act like it.
Try mutual masturbation so you both get off the way you love best without penetration.
If your partner enjoys a bigger, thicker D, buy a large dildo and let it be your "stunt penis" to give your partner what they crave.
Sex is supposed to make both partners feel good and fulfill desires. As long as you're both satisfied when you're done, it doesn't matter how you do it.
Conclusion
If your size really gets you down, especially during sex, trying something safe and non-invasive like a penis pump to make yourself temporarily bigger. But remember that there's more to sex than penetration. If you satisfy your partner in other ways, they're not going to care how many inches you've got — or don't have. Focus on other parts of sex so that both of you get more out of the moment without the potential dangers of trying to get a bigger penis. At Jack and Jill Adult, we offer plenty of pumps and extensions to give you the length and girth you want in the safest way possible.
How do you feel about your size? Is it something you're satisfied with or will you try a penis pump to give yourself a little extra? Let us know in the comments below!
---