When you're shopping for a fun, new adult toy have you ever paid attention to the description of each one? Some are made of silicone, others of TPE/TPR, and still others are made of something else entirely. What's the difference? Which one is better? And how do you know which to buy?
It's good to know what you're putting on, in, or near your body before you buy an adult toy. Here's a look at some of the most common materials used to make your favorite sex toys.
Silicone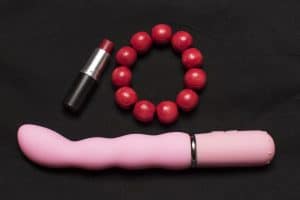 Silicone is a non-porous material and can be hard or soft, depending on how it's made. Non-porous materials tend to be harder to the touch and are easier to clean and sterilize. This means it can be sanitized and you don't have to worry about bacteria growing on it later. A silicone toy with no battery or power source can be boiled or washed in the dishwasher. All silicone toys can easily be cleaned with soap and water.
Silicone sex toys last a long time and tend to be higher in price. When a manufacturer uses high-grade silicone, you can usually tell by how much it costs to buy. Silicone comes in a variety of colors and styles. Use a water-based lubricant as silicone lube and silicone toys don't mix well. Contrary to a common myth, yes, you can store your silicone sex toys together.
Hard Plastic or ABS Plastic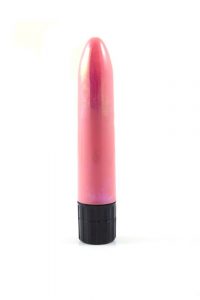 Hard plastic sex toys are often more affordable than silicone. The majority of hard plastic is non-porous. It's commonly used in vibrators and because it's a harder material, it transfers the stimulation in a louder and stronger way. You can clean ABS plastic with soap and water or sterilize it, as long as it doesn't have a power source or battery, which is rare.
ABS plastic is more durable than some other materials so your toys will last longer without costing quite as much as high-end silicone toys. If your toy contains a mix of ABS plastic and other porous materials, sterilization cannot be guaranteed. When you're not sure you can prevent bacteria growth or get a toy completely clean, putting a condom over it when you play is a good idea. You can use any kind of lube with ABS plastic.
Soft Plastics aka TPE/TPR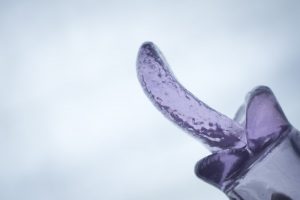 Soft plastics are most commonly referred to as TPE or TPR materials. These sex toys are much softer to the touch and more malleable. They are typically much more affordable when you're shopping for something new. Many TPR/TPE sex toys are phthalate and latex free and also non-toxic. They're safe to use, but because of the soft material they're made of, they're hard to clean.
You can't completely sterilize a soft plastic sex toy. If you're the only one playing with it, this shouldn't be a problem as long as you keep it clean with soap and water and store it properly. But if you decide to share it, use a condom. Also, only use water-based lubricant with soft plastic toys. Check these softer toys for tears, dark spots, or odors. Once you detect any of these things, it's time to throw it out and get a new one.
Jelly Rubber
Widely used in dildos, jelly rubber or jelly toys are extremely affordable. They tend to be popular because of their soft texture. Jelly is a porous material and can not be sterilized. The best you can do is clean it before and after each use with soap and water and use a condom when you share your jelly toys. They usually contain phthalates which make plastics softer but can be harmful to your health. Look for phthalate-free jelly toys.
Because of the soft material and chemicals used to make jelly, you need to store any toys made of this material in a cool, dark place. Do not store one jelly toy with another as the chemicals can react to each other negatively. Only use water-based lubricant with a jelly toy and discontinue use if your skin becomes irritated. Not everyone reacts badly to jelly toys but some people do. Like TPR/TPE, if you detect odors, colors, or tears, throw your toy away.
Other Materials
While silicone, hard plastic, soft plastic, and jelly are some of the most common materials used to make adult toys, they're not the only options. Wood, metal, and glass make excellent penetrative toys like dildos or anal plugs. Look for wood toys treated with a body-safe finish. Stainless-steel toys can easily be sterilized in boiling water. Glass is safe and great for sensation play. You can even purchase ceramic sex toys but make sure it's glazed and kiln-fired – if it is, it will be non-porous.
Conclusion
Adult toys are meant to be fun for a few orgasms or to kink up your life. They also need to be safe for your body and the way you intend to play. Understanding the different materials used to make sex toys will help you make decisions that are right for you. Always check the materials used in a sex toy and buy what will be best for your body.

---